Wherever you'll be or be going, there is so much to see. From the very first minute after entering the festival. The craziest and most outrageous stages, colorful, and huge. Discover the musical areas for this year:
› FRIDAY (camping only):
The Dock
Fresh Village stage
› SATURDAY:
The Mainstage
De Grolsch hosted by Fvck Genres by LNY TNZ
SUPERBASH
Basic Grooves
Tropic Like It's Hot
Secret Confetti Society
› SUNDAY:
The Mainstage
De Grolsch door Coen & Sander
SUPERBASH
De Rebellenclub
Basic Grooves
Bashment Bangers
Der Hitspot
Electro Jungle by Flügel
Mysterious BushBush
Secret Confetti Society
› WEEKEND (camping only):
De Nachtdienst
Club Freshhhh
Fresh Village stage
NEW (I.A):
Camping opens on Friday afternoon = 3 nights of staying at the Fresh Village.
The music program will be expanded, and the main stage is open all day.
LINE UP RELEASE
We bring the best from the dance scene to Enschede at Pentecost. From Dutch heroes to the absolute world stars. And don't forget the upcoming talents.
Curious to see this storm of artists?! Just a little more patience… we're announcing the full line-up for Freshtival Weekend 2019 on Wednesday 27 March.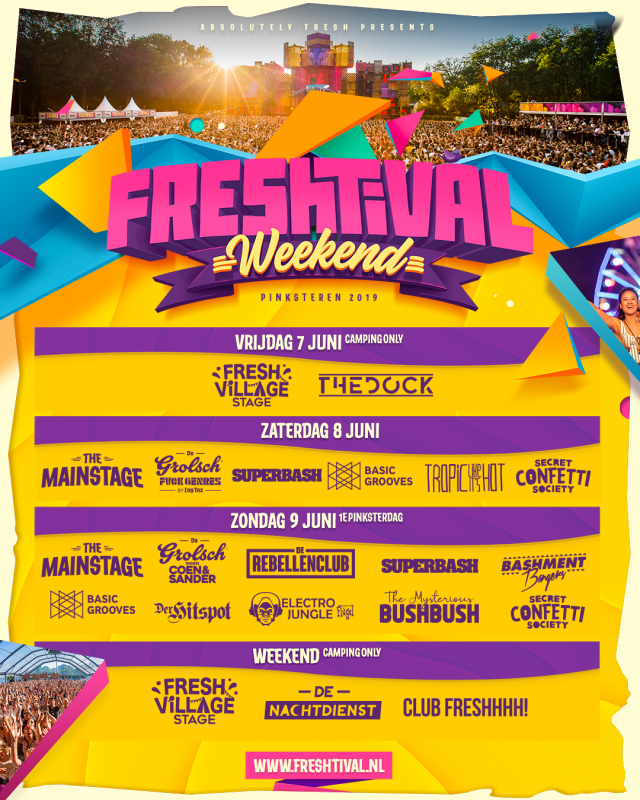 Back to overview